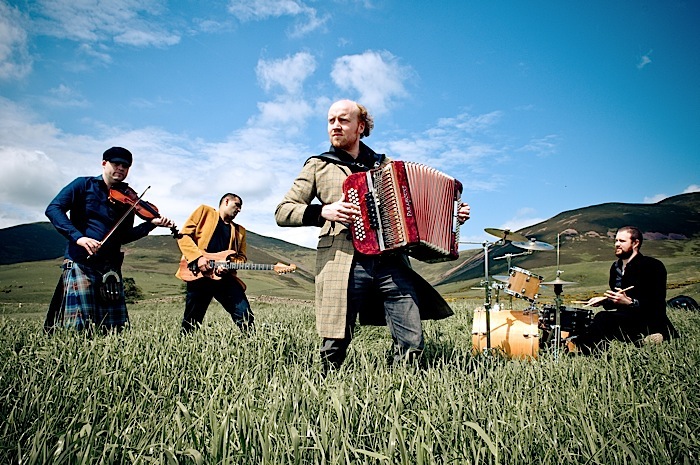 Overview
3 or 4 piece ceilidh rock band with dedicated sound/lighting engineer.
Professional DJ included if required
Discounts and/or smaller packages available for weekday bookings (Sunday - Thursday)
Price Range
Prices range from £1000 to £2000
About
Norman Mackay's Ceilidh Experience originally formed in Edinburgh in 2002. Now the Ceilidh band of choice for Rock stars, soap stars and famous politicians, they have gone on to perform at ceilidhs all over Scotland as well as making regular trips to England, Ireland and Europe.
The Ceilidh Experience are renowned for their rock style & high energy performances. They can be found performing anywhere from Scotland's most desirable castles, stately homes and hotels, to local village halls and barn dances.
In June 2005 they broke the world record for the biggest ever Eightsome Reel when they played for 5000 dancers on Edinburgh's meadows!
Norman Mackay (Accordion / Caller)
Born in the Highlands, Norman has been playing the button accordion since early childhood. He turned fully professional shortly after moving the Edinburgh in 2002. In 2004 he won the all Scotland button accordion championship and he has since gone on to establish himself as one of Scotland's most accomplished folk accordionists.
His own compositions regularly feature on TV and radio in both the UK and abroad, from the television documentary "The Reivers and the Making of the Borders" to the recent American Express MasterCard TV commercial which used a sample of his playing on the soundtrack.
2008 saw the release of his debut album "The Perfect Squeeze" which was produced by Ross Kennedy and features some of Scotland's finest musicians including Moishe's Bagel violinist, Greg Lawson and Donald Shaw of the Celtic super group, Capercaillie.
When He's not on tour with the Experience Norman can often be found making furniture in his Woodeye Furniture workshop in East Lothian.
Paul Godfray – (Fiddle/effects pedals)
Paul started to play the fiddle at school when he was 8. He worked through all of the classical grades achieving his Grade 8 with distinction when he was 17. However, It was always Scottish Music which interested him the most. He cites his biggest inspiration as being when attending a summer fiddle school with the great Shetland fiddler, Catriona MacDonald when he was 14. It was here that Paul was advised to tell his fiddle teacher to 'get groovy!'. Since then he has toured extensively throughout the U.S.A, Canada, France, Argentina and Brazil. Paul lived in Ireland from 2007 till 2009, greatly expanding his Irish music repertoire. He joined the Ceilidh Experience as a full time member in 2010 and has since been collaborating with Norman on a number of exciting new arrangements.
Emma Pethybridge (Fiddle/Caller)
Emma joined the Ceilidh Experience in September 2004 after meeting Norman on the folk scene in Edinburgh. Trained classically (BA Joint Honours Music/Hispanic Studies) Emma began playing traditional and folk music through the Glasgow Fiddle Workshop learning from great players such as Chris Stout and Aiden O'Rourke. She has travelled the world with her fiddle, studying tango in Argentina and playing with Quinteto Nostalgico.
Back in Edinburgh she is a regular performer with the Meadows Chamber Orchestra and has a keen interest in improvisation playing in 03/04 with the Tolbooth Improvisers Orchestra. Emma also works as a music therapist having completed a postgraduate diploma in music therapy (Nordoff-Robbins) in 2004.
Colin Macgregor (Drums)
Colin was born into a musical family and was encouraged in music from an early age, starting piano lessons at 7. This gave him a good grounding, and his interest in all types of music continued. Colin developed an interest in the guitar, taking lessons at school, and continuing with self study. Colin caught the rhythm bug age 12, switching from guitar to drums, which became his first study instrument. After much badgering, Colin's parents finally relented and bought him his first drum kit – much to the dismay of his neighbours! Much banging later Colin felt he wanted to continue with musical study and completed a BA in musical performance.
Since having completed a music degree, Colin has spent 9 years teaching percussion in private schools in Scotland, and has also been involved as a tutor for numerous music workshops, such as Feis Dhun Eiheann and Midlothian council music projects. Colin has a wide range of playing experience, from rock bands to Samba bands, Big Bands, small jazz style trios, ceilidh bands and function bands. Combing this eclectic array of groups has seen Colin play a wide variety of gigs and concerts. Colin's influences range from Led Zep to Wolfstone and everything in between!
Since joining the Ceilidh Experience in 2009, Colin has notched up hundreds of gigs with the band, both locally and on foreign soil.
Nawaz Haq (Electric Guitar)
Nawaz beat off competition from over 20 guitarists who auditioned for the band in the summer of 2011. His versatility, dexterous playing, and stage craft made him the perfect choice for the high energy Ceilidh Rock show.
Nawaz has studied the guitar from a young age and has a wealth of experience in many styles of music including blues, jazz, funk and most importantly rock! His versatile and high level of playing has allowed him to work as a session musician on many projects with numerous established international artists.
Disco James (Sound/lighting engineer & DJ)
Disco James has spent the past 10 years forging close links with the Ceilidh Experience. He has become an integral part of their show by providing DJ services when required and, more importantly, his sound engineering skills.
Since starting out in the early eighties James has gained vast experience presenting at graduation balls, weddings, parties and corporate events as well as supporting major pop acts.
He uses state of the art equipment and carries an ever increasing collection of over 50000 music tracks. He always asks his clients to provide a list of preferred music and no matter how specialist or obscure he will try his best to get every single one requested.
James also runs an equipment hire company which gives the band access to a huge range of additional sound/lighting as well as portable stage blocks, smoke machines etc.
Where are they based?
Based in Edinburgh but are happy to travel anywhere in the world providing expenses and additional costs are all covered.
Ask friends & colleagues what they think of this act...
Contact This Act
Check availability details & receive a free no-obligation quote directly from this Act... or simply ask any questions you might have...
Alternatively, send a single enquiry to multiple acts by adding this act to your shortlist before requesting a free quote...
Why book through Freak Music